I don't have any kit projects to share today but I did want to share some great Mother's Day craft ideas. I hope you see something you could easily make for the mom in your life or just for yourself because it's so darn cute!
This is one project I'm making for myself, as well as my mother-in-law and mom. For my mom, I'm thinking about doing a G and Grammy instead of the last name and the EST. date would be the year Cole was born. I'm thinking it would make a great wedding gift, too:
The information to put this together is here:
Fireflies and Jellybeans
Here's another fun thing to make:
And the how-to's are here:
Living with Lindsey
I've also seen a tutorial for making one of these with coffee filters!
This would be a really sweet pin for any mom or grandmom, or a really cute flower for a scrapbook page: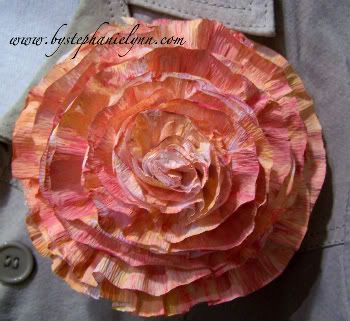 The directions for this can be found here:
Under the Table and Dreaming
And this just may be my favorite - I am planning on doing this sometime this week. Maybe for my mom and definitely for me:
Here's the info on this fabulous project:
Tatertots and Jello
All of these website are in my Google reader and are really great for fun projects, most that are super easy to do.
I hope your Mother's Day crafting will be fun and successful!!
Lisa